Home
INFINITE CONNECTIONS WEBSITE
We represent leading authors on a diverse range of subjects including ancient civilizations, consciousness, intuition, spirituality and many other genres. We arrange tours to sacred sites around the world including, Egypt, Peru, Bolivia, Easter Island, Stonehenge, Ireland. We also promote and organise numerous leading edge conferences around the world.
If you are a first-time visitor, please be sure to like us on Facebook (via the like box on the right hand side of this page). This will keep you up to date with the latest articles, interviews, conference and tours announcements.
Infinite Connections PR work with media around the world including, radio, magazine and TV to bring the public the latest cutting edge discoveries. Our focus is on bringing people together and connecting authors and researchers investigating ancient knowledge and wisdom, this is helping to break through the veil of mystery surrounding the ancient past and consciousness. The media are welcome to contact us about booking interviews with our various clients, for more information please contact us via the form on the right hand side of the website.
April 22nd 2014, update: over the coming weeks we will be adding information on the various authors, conferences and tours we will be working with in 2014. We have started to add a number of articles from our clients. Please check out the new "articles" tab on the menu bar. 

The Druids Path to Ancient Ireland & Britain, 12th – 25th of July 2014
We hope this tour of Ancient Ireland & Britain will put you in touch with an ancient civilization, they may be long gone but they have left behind incredible ancient sites, stone circles, and mounds. We will visit beautiful ancient locations across southern Ireland including Newgrange, The Hill of Tara, Sligo and the Giants Causeway, for the 2nd part of this tour we will fly to England and visit sites including Stonehenge, Glastonbury and Bath (please see http://infinite-connections.co.uk/july-2014-ireland-england-tour/ for the full itinerary). We will interact with invisible energies such as ley lines, earth energy patterns, and currents and learn how to recognize these patterns anywhere in the world. Some energy lines are imbued with healing energy whilst others are oracle lines ideal for communing with Source. We will see how the land is encoded and begin to comprehend the lost technology employed by our distant ancestors.

Lost Superior Technologies And Consciousness Of The Ancients Tour, September 15 To October 2, 2014
This tour embraces two different but complimentary aspects.
Ancient Technology: we will take an in depth look at the anomalies found at the sites, and show that at least one highly advanced technological civilization preceded the Inca. We will compare this with evidence for a highly sophisticated civilization in Egypt, existing prior to the Dynastic Egyptians. Our hosts will discuss the remarkable indications of what is possibly the world's greatest secret – that a highly advanced civilization with superior intelligence and capabilities once inhabited our planet thousands of years prior to the claims of most academics.
Consciousness expansion: Gary and Patricia will "hold space" for meditations and group intoning. A number of locations can be activated by sound resonance. Our ancestors had the ability to go deep within for insights; together we will share a journey of self discovery. We will also experience the intense energies at the powerful sacred sites. Join us for the journey of a life time! The full tour details are here
2014 conferences

The 2nd Eternal Knowledge Festival comes to Atherstone, Warwickshire, 4-6th July 2014. Speakers include: Brien Foerster (by skype) and Gregory Sams. Our new speakers include Marcus Allen, Patricia Awyan, Tom Bree, Paul Devereux, Gary Evans, Adrian Gilbert, Gary Lachman, Christopher McIntosh, Karen Ralls, Diana Taylor. Covering a variety of topics from psychedelics and pharaohs, sacred geometry, ancient Egypt and Peru, C17th City of London, the Hermetica, and concepts of the State both ancient and modern. Please visit the website for the full details. http://eternal-knowledge.co.uk/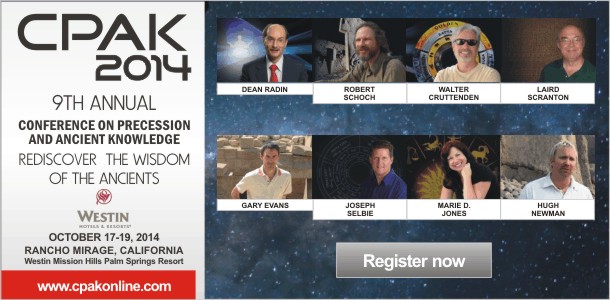 Ancient cultures around the world believed that consciousness and history move in a vast cycle of time with alternating Dark and Golden Ages – Plato called it the Great Year. Today we know it as one "precession of the equinox," an obscure astronomical motion, and consider the Golden Age to be just a myth.
But are we correct? An increasing amount of evidence suggests that long before the Dark Ages mankind had a deep understanding of astronomy, mathematics, holistic healing, and a profound ability to live in tune with nature. Join us as we discover the wisdom of the ancients. http://cpakonline.com/

You will find interviews with the majority of our clients on Red Ice radio http://www.redicecreations.com/