Home
INFINITE CONNECTIONS WEBSITE
We represent leading authors on a diverse range of subjects including ancient civilizations, consciousness, intuition, spirituality, environment+ many more. We arrange tours to sacred sites around the world including, Egypt, Peru, Bolivia, Easter Island, Stonehenge, Ireland. We also promote numerous leading edge conferences around the world.
Infinite Connections PR work with media around the world including, radio, magazine and TV to bring the public the latest cutting edge discoveries. Our focus is on bringing people together and connecting authors and researchers investigating ancient knowledge and wisdom, this is helping to break through the veil of mystery surrounding the ancient past and consciousness. The media are welcome to contact us about booking interviews with our various clients, for more information please contact us via the form on the right hand side of the website.
November 2013 update: over the coming weeks we will be adding information on the various authors, conferences and tours we help promote and participate in.

Expansion of Awareness & Consciousness Egypt Tour - A journey of spiritual growth
December 8th – December 21st 2013 - Special Guest Speakers: Patricia and Yousef Awyan and Gary Evans
The intention for this spiritual journey is for those joining to grow with us as we explore the ancient wisdom still present in Egypt. The ancient sites in Egypt have the potential to nourish our soul and help us grow in understanding, Patricia, Yousef and Gary plan to share deep insights and incredible group experiences during the course of this tour. Full tour details are here http://infinite-connections.co.uk/tours/egypt-december-2013/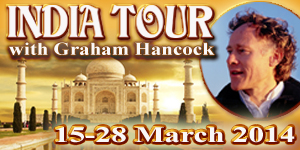 NEW INDIA TOUR with Graham Hancock - 15-28 March 2014
Infinite Connections are working in cooperation with Time of a New Era who are the organisers of this tour http://www.timeofanewera.com
This 14-day long itinerary includes visits to the most beautiful and mystical places in India. It will go through central India to visit the most important icon of this country – the Taj Mahal. The next stop will take part in Southern India where the mysteries of the oldest Indian temples will be explored. Eastern India will also be explored to learn about the culture and ancient spirituality of the country, finally a visit to Northen India to experience and feel the energy of the place where the Dalai Lama lives. The locations visited on this tour will enable guests to fully understand that India still holds many ancient secrets. India is still a land of mystery and one of the most spectacular countries to visit on this planet.

During this unique adventure we will take an in depth look at the anomalies found at the sites throughout Egypt, and combine, compare and contrast the startling evidence with Brien Foerster's findings in Peru. Join Yousef, Stephen, Brien, Patricia and Gary as they examine the evidence and discuss the remarkable indications of what is possibly the world's greatest secret– that a highly advanced civilization with superior intelligence and capabilities once inhabited our planet thousands of years ago.
Together our Speakers will provide the opportunity for you to Explore, Learn and Discover, as well as hold a space for you to Feel, Meditate and Experience the Intense Energies at the Powerful Sites here in Egypt. The full tour itinerary can be downloaded as a PDF on the following link http://khemitology.com/wp-content/uploads/2013/05/April-2014-Techno-Spiritual-Tour-II.pdf

The Druids Path to Ancient Ireland & Britain, 12th – 25th of July 2014
We hope this tour of Ancient Ireland & Britain will put you in touch with an ancient civilization, they may be long gone but they have left behind incredible ancient sites, stone circles, and mounds. We will visit beautiful ancient locations across southern Ireland including Newgrange, The Hill of Tara, Sligo and the Giants Causeway, for the 2nd part of this tour we will fly to England and visit sites including Stonehenge, Glastonbury and Bath (please see http://infinite-connections.co.uk/july-2014-ireland-england-tour/ for the full itinerary). We will interact with invisible energies such as ley lines, earth energy patterns, and currents and learn how to recognize these patterns anywhere in the world. Some energy lines are imbued with healing energy whilst others are oracle lines ideal for communing with Source. We will see how the land is encoded and begin to comprehend the lost technology employed by our distant ancestors.


You will find interviews with the majority of our clients on Red Ice radio http://www.redicecreations.com/