Home
INFINITE CONNECTIONS WEBSITE
We represent leading authors on a diverse range of subjects including ancient civilizations, consciousness, intuition, spirituality and many other genres. We arrange tours to sacred sites around the world including, Egypt, Peru, Bolivia, Easter Island, Stonehenge, Ireland. We also promote and organise numerous leading edge conferences around the world.
If you are a first-time visitor, please be sure to like us on Facebook (via the like box on the right hand side of this page). This will keep you up to date with the latest articles, interviews, conference and tours announcements.
Infinite Connections PR work with media around the world including, radio, magazine and TV to bring the public the latest cutting edge discoveries. Our focus is on bringing people together and connecting authors and researchers investigating ancient knowledge and wisdom, this is helping to break through the veil of mystery surrounding the ancient past and consciousness. The media are welcome to contact us about booking interviews with our various clients, for more information please contact us via the form on the right hand side of the website.
February 2015 update: over the coming weeks we will be adding information on the various authors, conferences and tours we will be working with in 2015. We have started to add a number of articles from our clients. Please check out the new "articles" tab on the menu bar. 
2015 events

Full moon workshop
Awakening with ancient sounds
Opening the heart into higher consciousness with sounds of pyramids, temples and gongs.
Limited space for 32 people.
When = April 4th 2015, 2-5pm
Where = Xenia, Chapter 1, 2 Secker Street, Waterloo, SE1 8UF
Prices: Early bird: £27.50 until 04/03/2015
In this series of Awakening with ancient sounds we are going to host a special afternoon session designed as a journey into the self. A deep Inner journey of relaxation and heart expansion based on ancient Sound traditions from Temples and Pyramids around the world.
Why this workshop?
On the full moon we are subject to huge gravitational forces as it has been known to human beings since the dawn of time. The aim of this session is to help you bring balance to your system and use the moon force to reach a higher level of consciousness.
What to expect from this workshop?
We will be incorporating elements of Sound, Meditation, Chant, Colour and Aroma therapy, we plan to awaken and stimulate your various senses. This combination is designed to create a powerful, cleansing and soothing effect. To raise our awareness it is beneficial to firstly create space and let go of anything that no longer serves us.
Our intention for the session. To provide a relaxing and healing space to assist in awakening the groups sensibilities by going deep within.
Gary, who has been traveling and researching ancient sites, and pyramids around the world for the last 20 years, will convey his fascinating mystical experiences of using group chanting in those ancient sites with his usual wit and deepness of knowledge.
We will then take you through a unique set of experiences, including recreating the mystical experience that happen when a group chants together inside a pyramid.
You will then be ready to comfortably lie down and enjoy an especially crafted Gong Bath to take you to even deeper states of consciousness and allow you to repair your cells, rejuvenate and prepare you for a new beginning.
Sunday, April 4th, 2015
2-5PM
Xenia, Chapter 1
2 Secker Street, Waterloo
SE1 8UF
Full details and timetable for the workshop:
2015 tours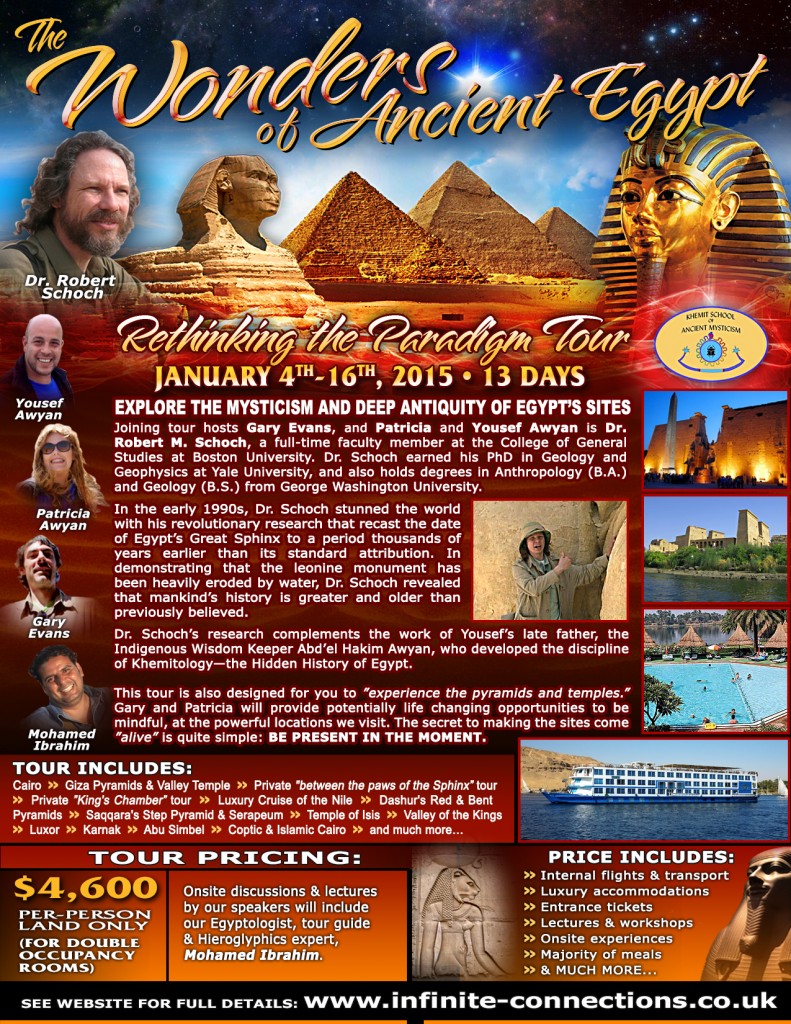 Infinite Connections and the Khemit School of ancient mysticism are very excited to be joined on the above tour by Dr. Robert Schoch. Dr. Schoch's skills as a geologist will offer unique insights as we travel the length of the Nile. For more information please download the following PDF for the tour itinerary, including many wonderful photos which should provide an insight into the wonders we will visit and experience http://khemitology.com/wp-content/uploads/2013/05/January-2015-Rethinking-the-Paradigm-Tour-Itinerary-FINAL-.pdf

You will find interviews with the majority of our clients on Red Ice radio http://www.redicecreations.com/