Shamanic Korean Ceremonial Rattle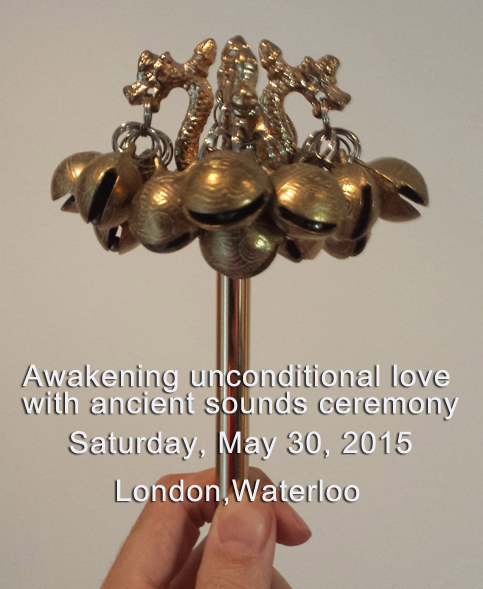 Shamanic Korean Ceremonial Rattle
1 Thing you didn't know about 

‪#‎

music‬
that could change your life.
A ceremonial sound ritual is a ritual and not a musical performance, and this shapes its musical dimension. Sound ceremonies use various ways of making sounds to which different purposes are ascribed.
For example, a central element in Siberian shamanism is the use of hanging metallic objects – this could include small bells – attached to the ceremonial cloak and to the inside of the drum and also sometimes to the drum stick. This sets up a continuously active sound field; this will be heard as a single complex sound which can enhance a meditative state. A further element is the spatialisation of sound brought about not only by the shaman's movement, but also by singing.
Current day Music and Sound Therapy have much in common with ancient indigenous practices. Music therapy is a well respected health profession and one of the expressive therapies, consisting of a process in which a therapist uses music and all of its facets—physical, emotional, mental, social, aesthetic, and spiritual.
On May 30th in London Gary Evans and
Otto Haddad will be sharing
ancient 
and 
modern 
sound 
therapy
and meditative 
techniques.
The full details for the next event are on http://www.meetup.com/Professional-Group-Sound-Therapy-in-London/events/221474508/?a=ra1_te
#LondonLife #londonyoga #workshop #events #soundtherapy #Musictherapy #healing #Meditating #Namaste #Energy #Peace #Relax #Life #Mindful #Mantra #Chakras #Buddhism #Stress #Relaxation #Stress #Zen #Meditate #meditation #mindfulness #yoga #yogi #chant #spiritual #spirituality
Didn't find any related posts :(
About infinitegary (9 posts)
Gary has been studying ancient cultures and Earth mysteries for 20 years. From his studies of ancient cultures around the world, Gary has realized how deeply our ancestors appreciated Nature; something many of us have become disconnected from in the modern age. His keen interest in an unfamiliar chapter of pre-history, before Sumeria (3500BCE), has led to the website http://www.AtlantisEvidence.com and various lectures around the UK, US and Egypt. He is a regular contributor to international radio shows.
Gary also helps organize and lead tours to some of the most powerful ancient sites around the world. He has become increasingly interested in sound resonance and its potential to change our state of consciousness; he often leads toning workshops on location. On tours, Gary leads groups with an "experiential approach" in efforts to help guests "tune in" and experience the sites in a far deeper way.
Additionally, Gary actively helps to promote greater awareness of ancient mysteries to the public as the PR agent for a number of best selling alternative authors. Gary's work as agent in the alternative arena has given him the opportunity to speak to authors, radio show hosts, and TV producers around the world. Gary has recently been working with producers for the History Channel, and as a consultant for a large number of magazine editors, TV and radio show hosts. He also uses his PR skills in the promotion of conferences such as CPAK, Awake and Aware in the USA and Megalithomania and, following the end of the Stars and Stones forum, the Eternal Knowledge Festival, in the UK. When not working on conferences he is organizing and running tours to Egypt, Peru, Bolivia, Stonehenge and many other sacred sites.
Links – websites and social media
http://infinite-connections.co.uk/ & www.atlantisevidence.com
Facebook group https://www.facebook.com/groups/InfiniteConnectionsPR/
Twitter https://twitter.com/#!/Connections_PR
infinitegary's RSS Feed