Conferences
2014 conferences, and events.
Infinite Connections help organise and promote numerous leading edge conferences and events. Please find below our 2014 schedule. If you have any questions please drop us a line via the contact form on the right hand side of this page.


The 2nd Eternal Knowledge Festival comes to Atherstone, Warwickshire, 4-6th July 2014. Speakers include: Brien Foerster (by skype) and Gregory Sams. Our new speakers include Marcus Allen, Patricia Awyan, Tom Bree, Paul Devereux, Gary Evans, Adrian Gilbert, Gary Lachman, Christopher McIntosh, Karen Ralls, Diana Taylor. Covering a variety of topics from psychedelics and pharaohs, sacred geometry, ancient Egypt and Peru, C17th City of London, the Hermetica, and concepts of the State both ancient and modern. Please visit the website for the full details. http://eternal-knowledge.co.uk/
The first EKF in Suffolk in 2012 was a great success. We are now bringing this weekend of talks and workshops to Atherstone, the geomantic centre of England where we will continue to explore Bronze Age to Modern Age knowledge that is both useful and relevant to civilisation.
This time we are focussing on the links between ancient societies, like the Egyptians, and the Hermetic (eternal) wisdom that has influenced European culture through the centuries. We will have talks and workshops on ancient technology, Egypt and the stone of destiny, psychedelics and pharaohs, Medieval heresies, C17th Rosicrucianism, Carl Jung and hermeticism, concepts of the state ancient and modern, Tarot and the Hermetica, and sacred geometry. There will be a general forum discussion with speakers at the end of the weekend.

Two workshops:
The Science of Sound and Metaphysics in Ancient Egypt.

UK and US venues
UK Retreat: Relax, Restore & Renew with a Yoga, Sound & Meditation Retreat with Dawn Smith, Gary Evans & Fellow Teachers. Monday 28th – Thursday 31st July 2014. At Florence House, Southdown Road, Seaford, East Sussex BN25 4JS. The full details are here 
US Retreat: Gary Evans will also be holding a weekend workshop at ECETI Ranch in Washington state from September 5th to 7th. The full details are here
Request a Private Invitation to Visit
All visitation to the Ranch is by private reservation and private invitation only. Please do not show up uninvited or with out a reservation. The front gate will be closed and James & the Ranch Crew may have other engagements scheduled. We trust all will understand that there is a high degree of international interest in James and the Ranch. For more information kindly contact us at ecetireservations@gmail.com or call 509-395-2092 Please contact us in advance, we will do our best to reply promptly.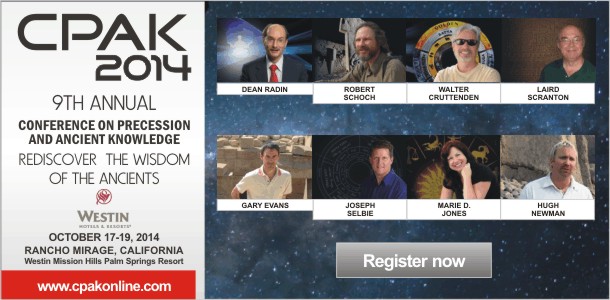 Ancient cultures around the world believed that consciousness and history move in a vast cycle of time with alternating Dark and Golden Ages – Plato called it the Great Year. Today we know it as one "precession of the equinox," an obscure astronomical motion, and consider the Golden Age to be just a myth.
But are we correct? An increasing amount of evidence suggests that long before the Dark Ages mankind had a deep understanding of astronomy, mathematics, holistic healing, and a profound ability to live in tune with nature. Join us as we discover the wisdom of the ancients. http://cpakonline.com
SPEAKERS 2014
Dr. Dean Radin – Supernormal – Ancient Science, Yoga and Evidence of extraordinary abilities.
Dr. Robert Schoch  – Gobekli Tepe, purposely buried almost 10,000 years ago. Why?
Dr. Amit Goswami Ph.D. – The transformative power of quantum physics to change ourselves and our social institutions.
Walter Cruttenden – Stellar evidence of a higher age, lessons from Noah
Hugh Newman – Reveals that stone circles are astronomically aligned, are part of a greater geodetic survey, and more…
Gary Evans – Archeoacoustics: Sounds of a higher age consciousness.
Joseph Selbie – Yuga keys to understanding changes in world history and consciousness.
Marie D. Jones – Viral Mythology, the ancient truth in legend, art and architecture.
Laird Scranton – The amazing structure and meaning of early languages.
"And others coming soon"

2013 conferences, and events.
Gary Evans will be giving a presentation on "The Natural Technologies of the Ancient World" at the TruthJuice gathering near Stonehenge – August 22nd -26th 2013. Click this linkor the below banner for more information. Other speakers include Kerry Cassidy, Santos Bonacci, Lucy Wyatt, Maria Wheatley and many more.
Ancient site tours will also be available with Maria Wheatley to Woodhenge, Durrington Walls, The long lost Healing Temple, Stonehenge, The Cursus Barrows – where time slips have been reported, Crop circles (if in locality).
http://www.truthjuice.co.uk/?page_id=2538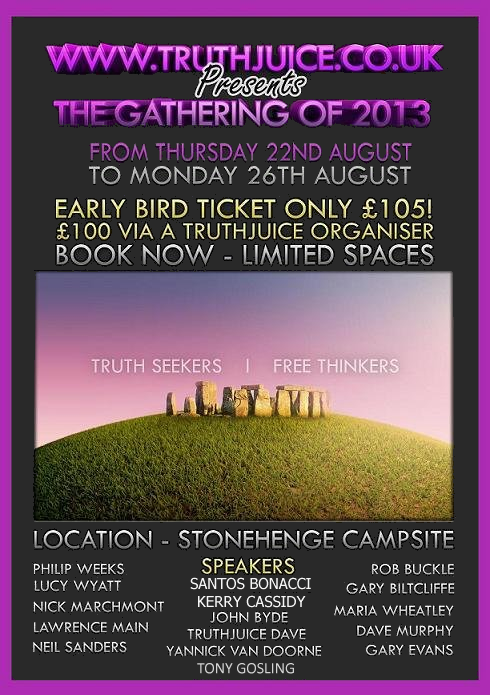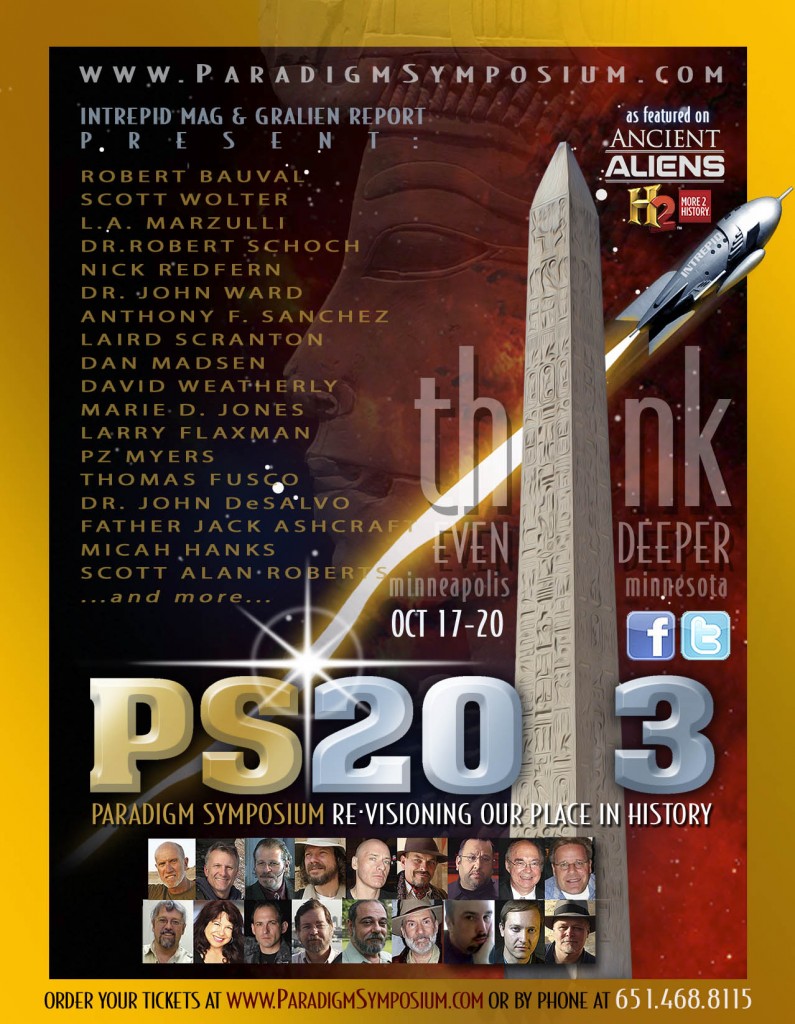 Get your tickets, NOW, for the Paradigm Symposium 2013 (PS2013) – OCTOBER 17-20, 2013, Minneapolis, MN
Featuring These phenomenal GUEST SPEAKERS:
Robert Bauval
Scott Wolter
L.A. Marzulli
Dr. Robert Schoch
Nick Redfern
Dr. John Ward, Sirius Project, Luxor, Egypt
Anthony F. Sanchez
Laird Scranton
Dr. John DeSalvo
David Weatherly
Marie D. Jones
Larry Flaxman
Dan Madsen
Thomas Fusco
PZ Myers
Father Jack Ashcraft
Micah Hanks
Scotty Roberts
BIG Ticket – $239
BIGGER Ticket – $339
BIGGEST Ticket – $449
(see the website for ticket details) www.paradigmsymposium.com
OR call with any questions: USA (651) 278-8988
"The Paradigm Symposium has quickly become the #1 alternative conference in the United States, if not the world."
~ Philip Coppens, November 2012
---
2012 Alternative History and Transformational media conferences and events
The Conference for Consciousness and Human Evolution is a series of inspirational lectures from world teachers who are pushing the frontiers of science and spirituality to bring a new world view into light. http://www.tcche.org/index.html

Transformational Media – A new summit bringing together leaders from across the globe to explore how emerging trends and new ideas in media can contribute to peaceful prosperous living. London, 27-28th of September 2012. http://www.transformationalmedia.org.uk/

The Conference on Precession and Ancient Knowledge – CPAK will again bring together a cadre of authors, scientists and independent researchers. http://www.cpakonline.com

Graham Hancock – A Species with Amnesia
Monday 26 November 2012 – 7.00 PM to 8.30 PM
St James's Church / Piccadilly / London
£10/5 concs.
Click here for a map
See here for details, and booking options: http://alternatives.org.uk/Site/EventDescription.aspx?EventID=1045
It's often been said that those who forget the lessons of the past are doomed to repeat them. But what if we have forgotten an entire, hugely important episode in human history?

Didn't find any related posts :(
About infinitegary (9 posts)
Gary has been studying ancient cultures and Earth mysteries for 20 years. From his studies of ancient cultures around the world, Gary has realized how deeply our ancestors appreciated Nature; something many of us have become disconnected from in the modern age. His keen interest in an unfamiliar chapter of pre-history, before Sumeria (3500BCE), has led to the website http://www.AtlantisEvidence.com and various lectures around the UK, US and Egypt. He is a regular contributor to international radio shows.
Gary also helps organize and lead tours to some of the most powerful ancient sites around the world. He has become increasingly interested in sound resonance and its potential to change our state of consciousness; he often leads toning workshops on location. On tours, Gary leads groups with an "experiential approach" in efforts to help guests "tune in" and experience the sites in a far deeper way.
Additionally, Gary actively helps to promote greater awareness of ancient mysteries to the public as the PR agent for a number of best selling alternative authors. Gary's work as agent in the alternative arena has given him the opportunity to speak to authors, radio show hosts, and TV producers around the world. Gary has recently been working with producers for the History Channel, and as a consultant for a large number of magazine editors, TV and radio show hosts. He also uses his PR skills in the promotion of conferences such as CPAK, Awake and Aware in the USA and Megalithomania and, following the end of the Stars and Stones forum, the Eternal Knowledge Festival, in the UK. When not working on conferences he is organizing and running tours to Egypt, Peru, Bolivia, Stonehenge and many other sacred sites.
Links – websites and social media
http://infinite-connections.co.uk/ & www.atlantisevidence.com
Facebook group https://www.facebook.com/groups/InfiniteConnectionsPR/
Twitter https://twitter.com/#!/Connections_PR
infinitegary's RSS Feed