France Tour intro

 Tour overview
Many tours are for the intellect; our tour is a tour for the heart. To facilitate a tour speaking to our heart, we need a unique process – please, read on to find out more.
The Languedoc area of France is stunning with its majestic and unspoiled landscapes full of mountains, forests and beautiful, crystal clear rivers. It also has a warm climate and incredible food. September is a great time to visit with average temperatures ranging from 64f to 77f (18°C-25°C). We will introduce you to a variety of the regional gastronomical delights, and will arrange a couple of special meals to give you a real taste of the produce and delicacies.
We believe you will find, as we do, that this area can refresh and revitalize us, and also allows us to expand, relax and see a larger perspective on life.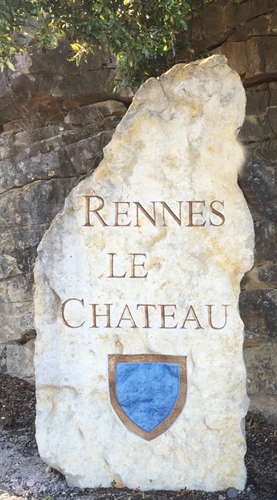 Treasure and mystery
Thanks in part to modern authors such as Dan Brown, when people hear the name Rennes-le-Chateau they immediately imagine gold and treasure. There are numerous books about a treasure hidden in the area of Rennes-le-Chateau. Most of these relate to treasure in the form of monetary wealth. In our opinion (based on experience), there is another type of "treasure" in the area. Many of those who study the self-development and spiritual path have come to the realisation that there is a more valuable treasure than gold – a treasure hidden deep within.
The problem, as we would expect with any hidden treasure, is that treasure within is challenging to find and access. Quiet often, our busy minds prevent us from seeing what is really inside us – our true passions and inspirations; who we really are. Yet another challenge is how to get insight into our true nature. For if the true nature is supposed to be something that is always within you, how can you even find it or lose it? And even if you deviate from it, how can you know whether you have come back to your true self or yet another self-created mask?
Here, we have a central struggle for anyone seeking the path to enlightenment. And we have found that in order to get a better understanding of the issue, it is vital to get a larger perspective. That is why, we think, areas like Languedoc can be so important and useful. The Languedoc area of France is one of those places that can assist us with this demanding inner journey. Countless people stretching back into the mists of time have enjoyed Languedoc's natural beauty. We found the combination of elements found here to be refreshing and revitalizing, allowing us to expand, relax and, truly, see a larger perspective on ourselves.
A brief history of Languedoc in France
Rennes-le-Chateau is located in the province of Languedoc in Southern France and has been a focal point for human activity and growth going back hundreds of thousands of years. Over the millennia, numerous people have populated the area that our tour covers. The Cathars, the Templars, the Visigoths, the Romans and the Greeks have all occupied the territory. We also know, from the large stone constructions left behind, that the megalith builders (think Stonehenge construction) were in the area circa 3000 BCE.
The story doesn't stop there – within a few hours drive of Languedoc we find some of the earliest known cave art dating to 18,000 BCE and 32,000 BCE. Just over the border with Spain, cave art has been found dating to 40,000 years ago. Impressive as those numbers are, they pale in comparison to a find unearthed in a cave near the village of Tautavel, Languedoc, in 1971. Some of the most ancient remains in Europe were discovered, now known as Tautavel Man. His remains date to 450,000 BCE.
Prehistoric humans may have exploited the Languedoc area as a seasonal hunting ground. If we look at a map of Neanderthal dispersion, we can see the remains found to date heavily focused around southwestern France. Why have so many people felt drawn to this area? A key question we intend to look at more deeply while on tour.
Olga and Gary hope to show you why people have been attracted here. Let's go back, right back. Using ancient methods, we can connect deep within to get a sense of what the modern world has lost.

How is this tour different? Heart, not head
We won't be rushing around from one place to another – our goal isn't to see as many locations as possible and constantly take photos. Our goal is to relax, expand, and deeply connect with the landscape and ancient sites. Hopefully, like us, using this approach will provide you with a window into a lost world, perhaps, giving you a taste of how our ancestors once experienced the landscape. This process needs time.
Reaching a deeply relaxed inner state isn't like turning a key – there isn't an on and off switch for relaxation. Throughout the years, people have been constantly searching for different techniques that could help them look within. Indeed, this is how many ceremonies, ritual and practices throughout the world emerged. Many of those techniques would emphasize that in order to get closer to the inner self, one needs time and patience.
In our tour, we will use ancient, as well as modern techniques, some of which, like forest bathing, have been scientifically shown to positively affect our physiology (please see the tour itinerary for more info). We will discuss the techniques used to help us on our inner heart journey, as well as the scientific facts behind them.
As we know that each of us differs in what we get from each place due to a variation in our needs at certain times, the focus of the tour will be on the quality of your personal experience in each location. We want to get the most out of our site visits so that everyone on the tour can benefit. Many of us share a common challenge: to get the most benefit from our experience at the sites, we need to calm our busy minds before we can move into the heart space.
In order to facilitate this process, we have organized a safe space to use for group work. These sessions will include sound therapy, meditation, Yoga Nidra, gentle and simple yoga, grounding, breathing techniques (pranayama), aromatherapy (including cleansing with Palo Santo), Reiki, and chanting. We will carry out these sessions before we set off for the majority of our days.
The Languedoc area also has a number of hot springs and spas. These will help our bodies to de-stress and release built up tension. The combination of these therapies is designed to have an accumulative effect – each day will build on the previous, taking you deeper within.
Why have we chosen this area?
Olga and Gary found far more than they expected while spending time in Languedoc. Their only wish is to share the places they love with like-minded people. Their hope is, others can gain as much inner peace and strength as they did while spending time there.
Our mission
To help you relax and let go of the world you left behind, giving you a respite from the busy daily routine and stress. We will do our utmost to help you move into a calm inner state and then open the door for you to connect with your true nature. Once the door is open… the rest is down to you!
Please, get in contact with us if you have any questions.
Gary and Olga
Please click here for the full tour itinerary
You can contact us via the form on the right hand side of this page or email us on the following:
Gary infiniteconnection.tours@gmail.com
Olga olgahht@gmail.com
Didn't find any related posts :(
About infinitegary (9 posts)
Gary has been studying ancient cultures and Earth mysteries for 20 years. From his studies of ancient cultures around the world, Gary has realized how deeply our ancestors appreciated Nature; something many of us have become disconnected from in the modern age. His keen interest in an unfamiliar chapter of pre-history, before Sumeria (3500BCE), has led to the website http://www.AtlantisEvidence.com and various lectures around the UK, US and Egypt. He is a regular contributor to international radio shows.
Gary also helps organize and lead tours to some of the most powerful ancient sites around the world. He has become increasingly interested in sound resonance and its potential to change our state of consciousness; he often leads toning workshops on location. On tours, Gary leads groups with an "experiential approach" in efforts to help guests "tune in" and experience the sites in a far deeper way.
Additionally, Gary actively helps to promote greater awareness of ancient mysteries to the public as the PR agent for a number of best selling alternative authors. Gary's work as agent in the alternative arena has given him the opportunity to speak to authors, radio show hosts, and TV producers around the world. Gary has recently been working with producers for the History Channel, and as a consultant for a large number of magazine editors, TV and radio show hosts. He also uses his PR skills in the promotion of conferences such as CPAK, Awake and Aware in the USA and Megalithomania and, following the end of the Stars and Stones forum, the Eternal Knowledge Festival, in the UK. When not working on conferences he is organizing and running tours to Egypt, Peru, Bolivia, Stonehenge and many other sacred sites.
Links – websites and social media
http://infinite-connections.co.uk/ & www.atlantisevidence.com
Facebook group https://www.facebook.com/groups/InfiniteConnectionsPR/
Twitter https://twitter.com/#!/Connections_PR
infinitegary's RSS Feed