Palo Santo "holy wood".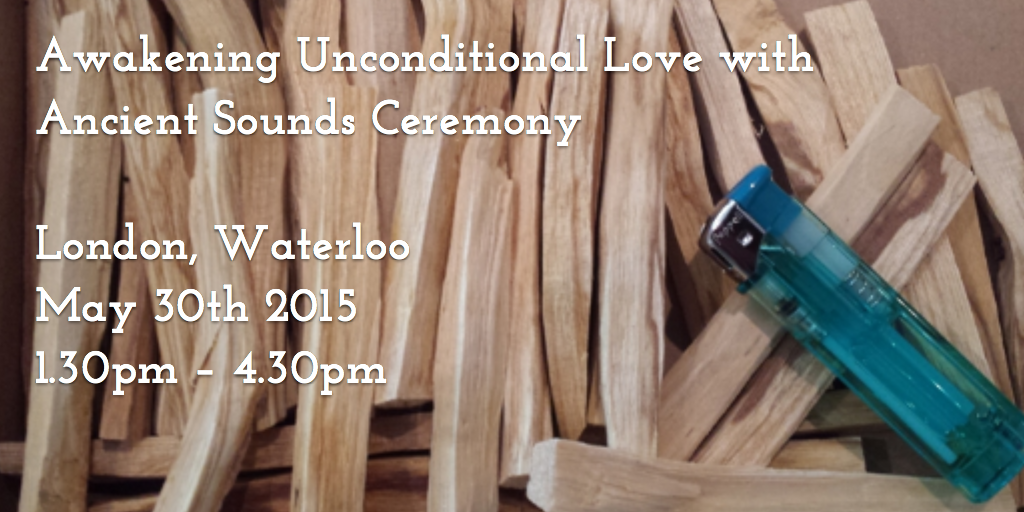 Palo Santo "holy wood"
Palo Santo is easy to use and its power to cleanse and purify is simply amazing. Palo Santo translates from Spanish to "holy wood". It belongs to the (Bursera) family, as does Frankincense and Myrrh. Indigenous people have used this powerful wood for centuries for its spiritual, religious, medicinal, and practical qualities. If you are looking for a pure and simple cleansing method for your home, car, or closet that's chemical free, you need look no further than Palo Santo Wood.
On top of the above, it has a very practical side as well, the smoke from burning Palo Santo can be used as a repellent to keep away mosquitoes, ants and other insects.
We will be using Palo Santo in our May 30th workshop along with the other elements shared on this social media feed. By combining a number of subtle elements, we hope to offer a deep experience for all those who participate.
Awakening unconditional love
with ancient sounds ceremony London
To sign up and learn more please visit http://www.meetup.com/Professional-Group-Sound-Therapy-in-London/events/221474508/?a=ra1_te
In this series of Awakening with ancient sounds we are going to host a special afternoon session designed as a journey into the self. A deep Inner journey of relaxation and heart expansion based on ancient Sound traditions from Temples and Pyramids around the world.
Why this workshop?
Ceremony should be viewed as a process to move from our often chaotic and busy minds into the heart space. We will take you through a safe and nurturing process to give you a chance to relax and let go.
A quote from a participant at our last event
"It was fun to do this in the afternoon in Waterloo, like a modern version of ceremony, natural progression and very welcome. Deep work, thank you!" Louise
Where = Xenia, Chapter 1, 2 Secker Street, Waterloo, SE1 8UF
Prices: Early bird: £29.00 until 10/05/2015
#London #workshop #soundtherapy #Musictherapy #Calm #Peace #music #energywork #voice #meditation #mindfulness #mind #health #soul #HigherSelf #healing #love #yoga #yogi #chakra #sound #wisdom #wellness #spiritual #spirituality #bethechange #selfhelp #consciousness #Follow
Didn't find any related posts :(
About infinitegary (9 posts)
Gary has been studying ancient cultures and Earth mysteries for 20 years. From his studies of ancient cultures around the world, Gary has realized how deeply our ancestors appreciated Nature; something many of us have become disconnected from in the modern age. His keen interest in an unfamiliar chapter of pre-history, before Sumeria (3500BCE), has led to the website http://www.AtlantisEvidence.com and various lectures around the UK, US and Egypt. He is a regular contributor to international radio shows.
Gary also helps organize and lead tours to some of the most powerful ancient sites around the world. He has become increasingly interested in sound resonance and its potential to change our state of consciousness; he often leads toning workshops on location. On tours, Gary leads groups with an "experiential approach" in efforts to help guests "tune in" and experience the sites in a far deeper way.
Additionally, Gary actively helps to promote greater awareness of ancient mysteries to the public as the PR agent for a number of best selling alternative authors. Gary's work as agent in the alternative arena has given him the opportunity to speak to authors, radio show hosts, and TV producers around the world. Gary has recently been working with producers for the History Channel, and as a consultant for a large number of magazine editors, TV and radio show hosts. He also uses his PR skills in the promotion of conferences such as CPAK, Awake and Aware in the USA and Megalithomania and, following the end of the Stars and Stones forum, the Eternal Knowledge Festival, in the UK. When not working on conferences he is organizing and running tours to Egypt, Peru, Bolivia, Stonehenge and many other sacred sites.
Links – websites and social media
http://infinite-connections.co.uk/ & www.atlantisevidence.com
Facebook group https://www.facebook.com/groups/InfiniteConnectionsPR/
Twitter https://twitter.com/#!/Connections_PR
infinitegary's RSS Feed