Tours

Infinite Connections promote a number of tours to sacred sites around the world. Below you will find a list of links to these tours.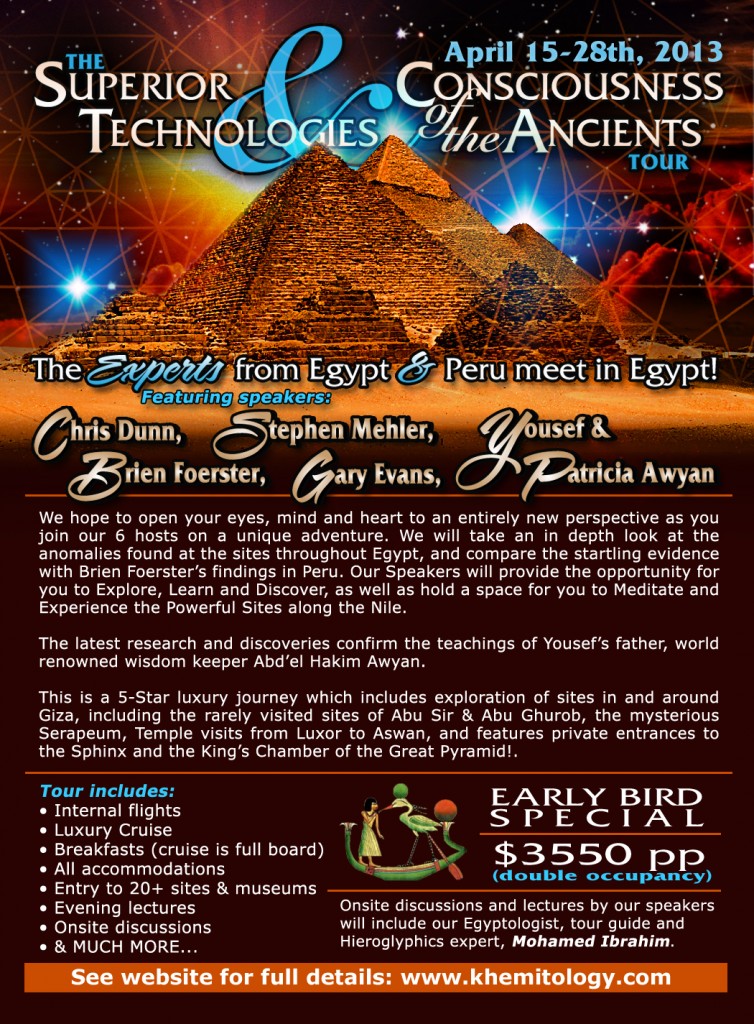 Egypt April 2013, Spiritual – Technology tour with Christopher Dunn, Stephen Mehler, Brien Foerster, Gary Evans and Patricia and Yousef Awyan. This will be a very special tour with alternative authors comparing varying perspectives on the sites throughout Egypt. There will also be an experiential side for those that are looking for deeper understandings. The full tour itinerary can be viewed here or downloaded as a PDF Spiritual and Ancient Technology tour
---
Travel to Peru in June with the star of the History channels Ancient Aliens, Brien Foerster, joining him will be Dr Rita Louise, the full details for this unique tour are available on the following link http://infinite-connections.co.uk/tours/june-peru-tour/
---
September 2013 Egypt tour, a new budget tour to Egypt with Robert Bauval best-selling author of THE ORION MYSTERY. For further information please take a look at the tour itinerary and prices here http://www.robertbauval.co.uk/tours.html
9 nights Tour of Egypt: from 16th – 25th Sept 2013
* Visit Cairo's magnificant Pyramids at Giza, Sakkara, Dashur and museums.
* An awe inspiring sunrise visit to the Great Temple of Ramses II at Abu Simbel.
* See the beautiful Temple of Isis, Philae Island, and the ancient quarry with the 1,200 tons unfinished obelisk.
* A special sacred Nile experience by Felluca or small boat to a Nubian Village.
* Take a relaxing, luxury Nile cruise between Aswan and Luxor.
* See the magnificent Temples at Kom Ombo and Edfu.
* Experience a dawn visit at Karnak at the Temple of Amun-Ra.
* Explore on excursion: The Valley of Kings; Colossi of Memnon; Hatchepsut Temple; Medinat Habu Temple of Ramses III.
* An amazing evening stroll through the floodlit Temple of Luxor!
…… and much more!
Optional extension tour: from 24th – 28th September
* A 3 night stay at a 5-star luxury beach resort at Sharm el Sheikh (a total stay of 12 nights including the basic tour of Egypt).
---
2013 Tours coming soon
July – Seven Wonders of ancient Britain and Ireland tour – 2 weeks traveling around the sacred landscapes of the UK and Ireland with Maria Wheatley. More details coming very soon (February 10th 2013)
August Peru tour with Lloyd Pye (author of "Everything You Know is Wrong – Human Origins", his second book is "The Starchild Skull — Genetic Enigma or Human-Alien Hybrid?") http://www.lloydpye.com/ this tour will be co-hosted with Brien Foerster from Hidden Inca tours.
December 2013 Spiritual Egypt tour – This unique tour is being planned for those interested in the deeper aspects of ancient Egypt, we will spend quality time in various temples and pyramids. We are planning a slower paced tour designed to give our guests extra time on site, as well as facilitate group discussions and lectures. Following on from a very successful spiritually themed tour in December 2012 we are designing an even better tour for 2013! This should also allow more time for meditation and toning. If you have any questions about our approach to meditation or chanting please drop me a line, I am happy to discuss the theory behind using sound to elevate our state of awareness. There are techniques that we can all use to connect with our intuition/higher self.
These tours also have a more grounded perspective, Patricia and Yousef Awyan will share the indigenous Egyptian wisdom as taught by Hakim Awyan. We are aiming these tours at those looking for a deeper tangible experience and with an interest in the effects of sound on consciousness. We will share techniques on location that can be practiced at home. Self empowerment is the main philosophy behind our approach.
Watch this space for more information and announcements on the private temple and pyramid visits we are planning. Private visits do add to a tour cost but allow for uninterrupted time in sacred space, we have shared a number of life changing experiences in these locations and feel private visits are worth it. Having said that, as Patricia and Yousef are based in Cairo they are able to ensure our tour costs are very competitive. We are determined to provide competitively priced tours that are value for money, normally these tours include many delightful surprises at no extra cost!
---
2014 tours plans.
The Temples and Megaliths of Malta with Gary Evans, Patricia and Yousef Awyan.
---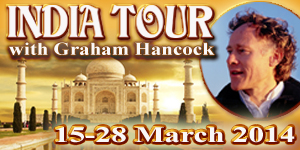 INDIA TOUR with Graham Hancock – 15-28 March 2014
Infinite Connections are working in cooperation with Time of a New Era who are the organisers of this tour http://www.timeofanewera.com
Our 14-day long itinerary includes visits to the most beautiful and mystical places in India. We will go through central India to visit the most important icon of this country – the Taj Mahal. The next stop will take part in Southern India where we will discover the mysteries of the oldest Indian temples. We also visit Eastern India to learn about the culture and ancient spirituality of this country, finally we will visit Northen India to experience and feel the energy of the place where the Dalai Lama lives. The locations visited on this tour will enable guests to fully understand that India still holds many ancient secrets. India is still a land of mystery and one of the most spectacular countries to visit on this planet.
What is more, during the tour you will take part in private lectures given by Graham Hancock. He will show us new evidence that supports his theory of a lost civilization. He strongly believes that technologically advanced culture existed in many places all over the world (for example in India, Egypt and Turkey) and was destroyed in a global cataclysm at the end of the last Ice Age. Now there is a time to reveal the truth about our past. And this is the reason for joining Graham Hancock on his tour to India to follow the "Fingerprints of the Gods". This will be a once in a life-time experience, this tour may never happen again!
Graham Hancock about our India tour:
"I spent four years of my childhood in India and the experience has shaped the entire subsequent course of my life. I've been back many times and travelled the subcontinent from north to south and from east to west, but I always look forward with keen anticipation to my next visit. This is because, unlike in other big, modern industrial nations that have long ago lost all sense of the sacred and all respect for "what the ancients said", the sacred life still permeates India through and through to such an extent that an appeal to the authority of scripture can settle all disputes. And unlike the cultures of ancient Egypt, Mesopotamia, China and the Americas, where only spectacular fossils of architecture and language remain, the culture of India is still vibrantly alive today, and offers as its gift to the present a vast library of archaic rituals, dances, games, ceremonies, festivals and customs as well as an immense oral literature that has not only been preserved and continuously passed on in the memory of sadhus and rishis (sages, wise men) for thousands of years but that is also celebrated, rehearsed, admired and relished in hundreds of thousands of Hindu villages from the Himalayas to the sea.
Our tour will be a journey of rediscovery and of new discovery for me. I have been to Khajuraho before and known the spell of extraordinary tantric magic cast by its its beautiful temples and sculptures. I've stood amazed before the Iron Pillar of Delhi. I've walked the banks of the Ganges and felt and experienced the deeply ancient spirituality of Varanasi, a city that has been continuously inhabited for more than 3,000 years – a city so sacred that many Hindus seek to end their lives there, believing that in so doing they will achieve moksha, or liberation, from the cycle of death and rebirth. But I've not been to Aurangabad, or Agra or the Taj Mahal, or Jaipur, or to the caves of Ellora and Ajanta and these, too, we will visit and explore on the exciting, eye-opening sacred journey into the heart of the mystery that is India. I look forward to travelling with you there, and sharing the magic, and reconnecting with my own spiritual roots in this ancient land that has reached out to me since childhood and that still exerts a profound magnetism on me today."
GRAHAM HANCOCK is the author of the major international bestsellers "The Sign and The Seal"," Fingerprints of the Gods", and "Heaven's Mirror". His books have been sold in more than five million copies worldwide and have been translated into 27 languages. His public lectures, radio and TV appearances have put his ideas before audiences of tens of millions. He has become recognised as an unconventional thinker who raises controversial questions about humanity's past. Born in Edinburgh, Scotland, Hancock's early years were spent in India, where his father worked as a surgeon.
The full tour details are available here http://www.timeofanewera.com/tour-india-tour-with-graham-hancock,18.html
---
More 2014 tours coming soon.
Tentative locations include, Egypt, Peru, Malta, UK, Scotland, France and Turkey. Please contact me for more information.
---
For more information on any of the above tours email me via the contact form in the right hand column. I am more than happy to answer any questions. We take great pride in the authors and researchers we organise and promote tours with. These tours are designed for anyone interested in the mysteries of life, we place an emphasis on exploring the deeper aspects of ancient cultures, aspects often overlooked or disregarded by others. The tours we organise attract like-minded individuals and couples from all over the world, by the end of a tour our guests often say they feel part of a new extended family, it's also common for strong friendships to be forged.
Ancient Sites around the world still have the potential to speak to us today, we hope by joining one of our tours we can help our guests answer some of the big questions, why are we here? where did we come from? how and why were the ancient sites built? has there ever been a better way to live in harmony with each other and the planet?.
Didn't find any related posts :(
About infinitegary (9 posts)
Gary has been studying ancient cultures and Earth mysteries for 20 years. From his studies of ancient cultures around the world, Gary has realized how deeply our ancestors appreciated Nature; something many of us have become disconnected from in the modern age. His keen interest in an unfamiliar chapter of pre-history, before Sumeria (3500BCE), has led to the website http://www.AtlantisEvidence.com and various lectures around the UK, US and Egypt. He is a regular contributor to international radio shows.
Gary also helps organize and lead tours to some of the most powerful ancient sites around the world. He has become increasingly interested in sound resonance and its potential to change our state of consciousness; he often leads toning workshops on location. On tours, Gary leads groups with an "experiential approach" in efforts to help guests "tune in" and experience the sites in a far deeper way.
Additionally, Gary actively helps to promote greater awareness of ancient mysteries to the public as the PR agent for a number of best selling alternative authors. Gary's work as agent in the alternative arena has given him the opportunity to speak to authors, radio show hosts, and TV producers around the world. Gary has recently been working with producers for the History Channel, and as a consultant for a large number of magazine editors, TV and radio show hosts. He also uses his PR skills in the promotion of conferences such as CPAK, Awake and Aware in the USA and Megalithomania and, following the end of the Stars and Stones forum, the Eternal Knowledge Festival, in the UK. When not working on conferences he is organizing and running tours to Egypt, Peru, Bolivia, Stonehenge and many other sacred sites.
Links – websites and social media
http://infinite-connections.co.uk/ & www.atlantisevidence.com
Facebook group https://www.facebook.com/groups/InfiniteConnectionsPR/
Twitter https://twitter.com/#!/Connections_PR
infinitegary's RSS Feed